About a year ago, Scott and I decided we were finally going to start internet businesses. Making that decision was the easy part! We then spent way too much time reading about internet business, scouring the internet, and blog-hopping from one "expert" to another in an effort to figure out exactly what we needed to do and how to do it. The payoff for all that time and effort was that we quickly got ourselves completely overwhelmed and were trying to move forward in about 14 different directions. Information is good. Knowing stuff is good. Sometimes trying to know too much stuff is just counter-productive. We desperately needed a step-by-step "roadmap" from one reliable source that would take us from start to finish without us having to figure it all out ourselves. When our heads stopped spinning, we re-grouped and decided to join Internet Business Mastery Academy. This post is somewhat of a review, but we really want to help you make your own decision about whether or not IBMA is the roadmap you need to get yourself  started (or unstuck) and to start making money online. The best way I know of to do that is to give you a peek behind the scenes. I'll do that with the video below.
The other reason we wanted to give you this "behind the scenes" look is that the pricing structure for IBMA membership will be changing soon. If you've been "on the fence" about joining, now is the time to decide. We want to give you all the details you need to make an informed decision and get in on the current price before it goes up. If you get in now, your membership fee will remain at the current price even after the price goes up.
What is Internet Business Mastery Academy?
IBMA is a membership website run by Jeremy Frandsen (aka "Sterling") and Jason Van Orden (Jay). Both of these guys have gone from where we are (trapped in the "rat race"), to consistently make 6 figures from online businesses. They launched IBMA with the intention of helping others do the same. Inside the members area, you'll find step by step courses to lead you through the entire process – from finding your niche and building a killer website, to building a loyal community and converting your visitors to cash. The lessons are delivered in various formats that make it really easy to grasp the information and actually use it – video, audio, document downloads, worksheets, etc. We have both been impressed by the detail and presentation of the information.
One of the best things about Internet Business Mastery Academy is the community you have access to once you're a member. When you join the Academy, you don't just download an eBook and plunder through it on your own. Inside the members area there are forums full of others who are on this same journey to escape the rat race. Being an internet entrepreneur can be kind of isolating, so it was really exciting and motivating for us to be surrounded by like-minded people all with similar goals. We've found that other Academy members – as well as Sterling and Jay – are more than willing to help, offer tips and advice, and share resources. There's even a part of the forum designed for Academy members to help each other drive traffic to their internet businesses. Need a new post tweeted, stumbled, or dugg? Just post a link in the forum. The community is great for generating ideas, getting feedback from others, and just keeping yourself motivated and inspired to succeed. And, by the way, creating that kind of community is one of the things you'll learn how to do in Course 6.
What You'll Learn From Internet Business Mastery Academy
Here's a list of the Courses. Within each course there are typically 10 or more lessons.
Designing Your Ultimate Internet Lifestyle (9 lessons)
Choosing a Profitable Niche (12 lessons)
Automate, Streamline, and Outsource Your Business (19 lessons)
Building a Bullet-Proof Internet Empire (10 lessons)
Launching a Far-Reaching Web 2.0-Ready Site (32 lessons)
Attracting a Community of Loyal Customers (11 lessons)
Creating Compelling Content (10 lessons)
Savvy Secrets for Effective Email Marketing (19 lessons)
How to Generate Massive Daily Traffic (19 lessons)
Creating a Product That Your Customers Will Scramble to Buy (14 lessons)
Converting Site Visitors Into Cash (14 lessons)
Why Internet Business Mastery Academy? Why Not [insert Internet "Guru of the Week" here]?
There are a gazillion "programs" and "systems" out there that will promise to show you exactly how to make [insert mouth-watering dollar figure here] in the next [really short amount of time here] all with just a shoestring, a toothpick, and a turnip. Ok, I made up that last part. But a lot of the scams out there can be enticing, even when your gut tells you the claims are "too good to be true." Listen to your gut. Most guts are pretty damn smart. I won't tell you that IBMA is the only legit place to learn how to start a successful online business. There are others out there who are doing it right. What I can tell you is that we've been members of IBMA for about 8 months now and we've been really happy with our investment, and we're making progress.
With that said, if you want to be able to quit your job next week and make $10,000 from the internet in 10 days, you should probably look elsewhere. If you're interested in creating an actual business that makes consistent, reliable income from the internet then it would be worth your time to check out the Academy. Again, watch the video below to get a better idea of what the Academy offers and whether or not it's right for you. If you spend hours and hours reading about how to start an internet business, and then have no idea where or how to start (been there, done that!) then you will probably feel like a huge weight has been lifted when you start going through the courses at the Academy. That was my experience.
Internet Business Mastery Academy Sounds Great…But How Long Is This Going to Take?
Yeah, we get it. The Rat Race sucks and you want out yesterday, right?  When you join the Academy, you can get started  right away, and you can go at your own pace. We wrote a blog post about Our First Day at Internet Business Mastery Academy when we first joined. How long it will take you to go through the lessons and implement the action steps really depends on you. How much time do you have to devote to it? How motivated are you to get your business started? How well do you manage your time? Sterling and Jay recommend that you expect to spend at least 9 months to go through all the courses (there is a lot of material there). Does that mean you won't make any money for 9 months? Nope. The cool thing about the Academy is that each course is focused on a very specific aspect of your internet business, and each one includes "action steps." These are the things you actually need to do (not just read about) in order to get your business up and running.
I would not recommend that you go through all the courses before you start taking action. The best way to use the Academy is to take the action steps as you go through each course (and don't forget to tap into the Mastermind forums!) Again, the time investment is really a personal thing. I'm sure a lot of people have gone through all the courses in less than 9 months. It will take us longer than that. Mostly because we suck at time management and we slack off too much (just keeping it real). There are also a lot of members who have gone through all the courses, launched their internet business successfully, and remain members just to have access to the member resources and the community.
How the Registration Process Works for Internet Business Mastery Academy
If you decide to join – just click on this link: Internet Business Mastery Academy and you'll be taken to a page where you can listen to a brief audio of Sterling & Jay. When you enter your name and email on that page, you'll receive (free) "The Three Pillars of Designing Your Ultimate Internet Lifestyle," which is a 45-minute audio lesson & worksheet compiled from Course 1 of the Academy. You'll also receive an email telling you exactly how to sign up for the Academy with a 30-day money back guarantee. When you sign up, you get instant access to the entire members area.
Full Disclosure:
One of our goals with A Couple of Quitters has always been to help ourselves and others get out of the Rat Race and start experiencing a better lifestyle, and to share our journey along the way. When we find something that works for us, or something that didn't work for us, we like to share it with you. Internet Business Mastery Academy is one of those things that is working for us. Because we're members and we know it's legit,  we are also affiliates, and the links in this post are our affiliate links. So, if you use our link to sign up we'll get a commission for referring you. BUT, we really don't want you spending your time, money, effort, whatever, on something that's not right for you. We've done that before and we know it sucks. We don't want to suck. We want to help. So, if you have any questions about Internet Business Mastery Academy, just post a comment and ask, or email us. We don't bite. Well, not hard anyway.
Ok, I Don't Wanna Read Any More. You Promised a Video…Where Is It?
Right here…(view full-screen if you want to see all the details)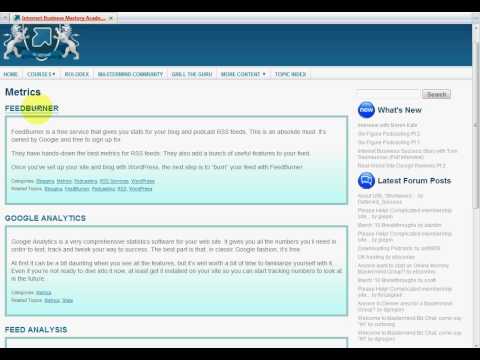 The cost of membership will be increasing soon.
If you've been planning to join Internet Business Mastery Academy,
but haven't gotten around to it… now's the time!